Joomla Web Hosting
Fast & Affordable Web Hosting Optimized for Joomla.
Starter Cloud Plan
Was $7.95
Perfect for new Joomla websites
Signup Now
Joomla Optimized
Business Cloud Plan
Was $9.95
Designed for small to medium Joomla sites
Signup Now
Premium Cloud Plan
Was $18.95
Optimized Hosting for Joomla
Signup Now
Not Sure Which Joomla Hosting Plan To Choose? Compare All 3 Plans
All Joomla Cloud Hosting Plans Include The Following Features:
Everything you'll ever need to host Joomla CMS.

Free Domain Name
We'll register a new domain or transfer your existing domain free of charge for the first year on all Joomla hosting plans.

Free Joomla Migration
Switching to us is easy! We'll move your entire Joomla website from your current host hassle free.
Host Unlimited Websites
Host unlimited individual websites on the Business and Premium hosting plans. Install multiple instances of Joomla with ease.

Unlimited Email Accounts
Create POP or IMAP email addresses for your websites with webmail access.

1-Click Joomla Installer
Install Joomla with our 1-click installer and have your site online in minutes!

Joomla Security Bundle
Our CSF firewall will protect your Joomla website from login attempts and other malicious activity.
24/7 Joomla Support
We host thousands of Joomla websites and can help you navigate Joomla if you need a hand.

cPanel Control Panel
All plans come with cPanel, the leading web hosting control panel.

Money Back Guarantee
We're sure you'll love our Joomla optimized hosting but just in case we'll give you a full refund within 30 days.
Use Our 1-Click Joomla Installer To Get Started!
With our 1-click Joomla installer you'll have your Joomla website online within minutes. Using the Joomla Admin Panel you'll be able to create pages, install themes and plugins all without any coding or technical skills required.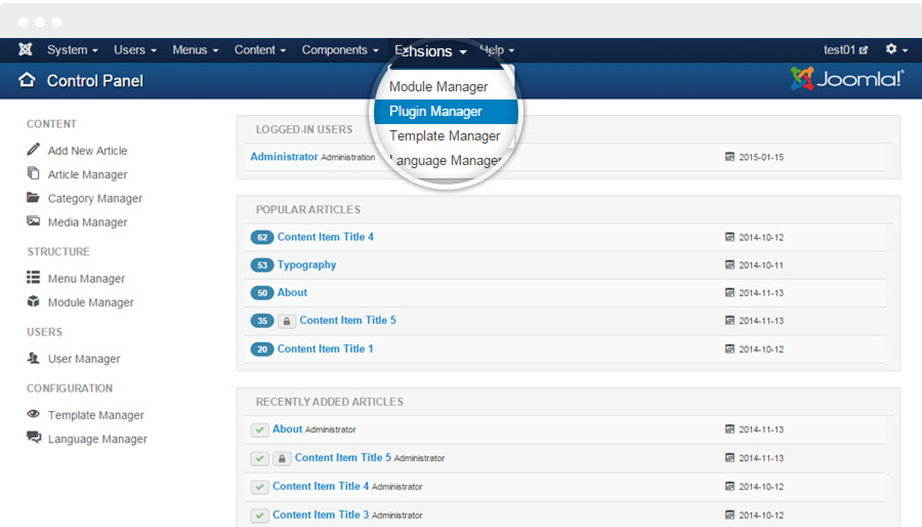 Frequently Asked Questions
Have questions? We've got you covered. Find answers to our most common questions below or speak with us on Live Chat
What exactly is Joomla?
Joomla is a free open-source CMS software that allows you to build a website without any coding or technical skills required. You can install thousands of themes to customize the appearance and then manage your website from the user-friendly Joomla Admin Panel.
What billing cycles do you offer?
You can choose a monthly, 6 month, 1 year, 2 year or 3 year term. The longer the term you choose the cheaper the price. You can change your billing cycle at any time.
What payment methods do you accept?
We accept Visa, MasterCard and Visa debit cards. We also accept PayPal payments.
How does the 'Free Domain' work?
We offer a free domain registration or domain transfer if you signup on a 1, 2 or 3 year billing cycle. We'll register or transfer your domain for free for the first year. Domains will then renew at the regular rates listed on our website. Domains are registered in your name and you retain full ownership.
Can I use any Joomla Themes or Plugins I want?
Yes! Our Joomla hosting plans are compatible with ANY theme or plugins you plan to use. Whether it's a free or paid theme it will work 100%.
Can I upgrade between Joomla Hosting plans?
Yes, you can switch between hosting plans at any time and our prices are pro-rated meaning you simply pay the difference of the new plan. Upgrades are instant between Joomla hosting plans and there is no downtime.
Can you help me move my existing Joomla website over?
Yes, simply submit a support ticket and provide us with your current hosts control panel login information. We'll move your entire Joomla CMS over to our servers free of charge.
Do you offer a Money Back Guarantee?
Yes, We offer a full 30-day money back guarantee on all shared hosting and reseller hosting plans. If you're not satisfied we'll provide a full refund for hosting services minus the cost of the domain name registration.
How does the 1-click Joomla installer work?
Inside your cPanel hosting control panel you'll see a Joomla icon. Once clicked you can click 'Install' and will be guided through the steps to install Joomla on your domain name. We have the latest version of Joomla available for install.
"HostHero migrated our Joomla site the same day without hesitation. The process was seamless and support was amazing to work with. You have no idea how much time you saved me and I'm so glad I chose to host our site with you guys."
Mandy J., Chief Editor - Vancouver, Canada.